2017 Theme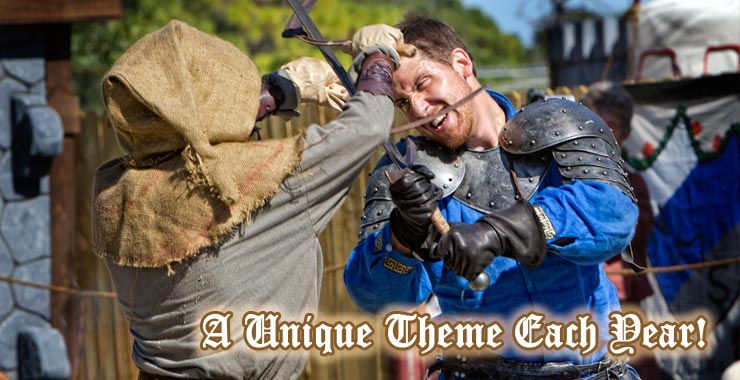 This Year's Theme -Ancient British Legend of Young King Arthur
The grandeur of ancient British and Welsh legend and lore is brought to life through the eyes of the fabled master of Wizardry and Wit, the Magical and Mysterious Merlin the Enchanter, who re-creates the exciting and dramatic story of how young Arthur came to be one of the most celebrated Kings in history.
Once upon a time, a young boy, under the mentorship of this mysterious magician named Merlyn, was being prepared for a future he couldn't yet possibly imagine – a future in which he would ally himself with the greatest knights, love a legendary queen and unite a country dedicated to chivalrous values. A future that would see him crowned and known for all time as Arthur, King of the Britons.
During Arthur's reign, the kingdom of Camelot was founded to cast enlightenment on the Dark Ages, while the knights of the Round Table embarked on many a noble quest. But Merlyn foresaw the treachery that awaited his liege: the forbidden love between Queen Guenever and Lancelot, the wicked plots of Arthur's half-sister Morgause and the hatred she fostered in Mordred that would bring an end to the king's dreams for Britain—and to the king himself.
Join the forces of fun as we make the legend of Arthur come alive this year's Young King Arthur scenario!
The history so presented is a play on the fictional accounts of the events and the biographies of the characters involved during this time period in history.
Are you like us and really, really, really love history? Below are a few historical and fiction readings on the topic of this year's theme.
Links & Bibliographies:
Anderson, Graham (2004), King Arthur in Antiquity, London: Routledge, ISBN 978-0-415-31714-6.
Ashe, Geoffrey (1985), The Discovery of King Arthur, Garden City, NY: Anchor Press/Doubleday, ISBN 978-0-385-19032-9.
Ashe, Geoffrey (1996), "Geoffrey of Monmouth", in Lacy, Norris, The New Arthurian Encyclopedia, New York: Garland, pp. 179–82, ISBN 978-1-56865-432-4.
Ashe, Geoffrey (1968), "The Visionary Kingdom", in Ashe, Geoffrey, The Quest for Arthur's Britain, London: Granada, ISBN 0-586-08044-9.
Ashley, Michael (2005), The Mammoth Book of King Arthur, London: Robinson, ISBN 978-1-84119-249-9.
Follow us on our Facebook page as we provide unique insights into the history of this year's theme!