2016 Theme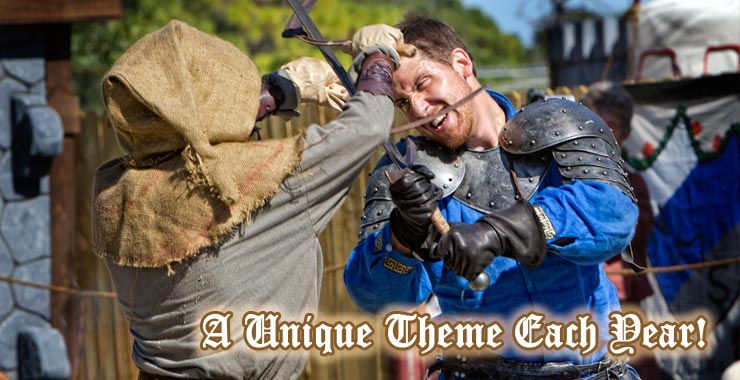 This Year's Theme - French VS English!
The year is 1199 AD. The English and their rebellious French vassals are staged for battle but only one will prevail!
Join the forces of fun as we make history come alive this year with our English vs. French scenario! This years scenario is the Siege of Château de Châlus-Chabrol (April 6th, 1199 AD). Château de Châlus-Chabrol is a castle which dominated the town of Châlus, France.
Its 1199 and Richard, the King of England, acknowledged by all – even his enemies – as one of the greatest soldiers and commanders of his era, has come through rebellion, crusades and captivity to win the renown of many of his subjects. Yet despite his renown and record in battle, he is still beset by adversaries, both inside his kingdom and outside it.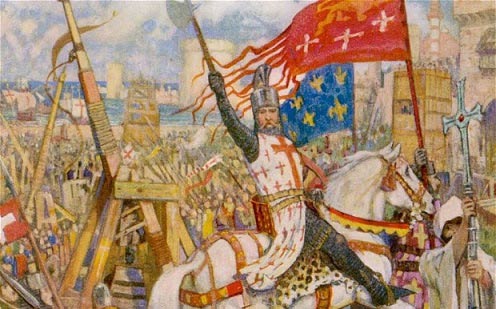 King Richard must contend with two of his mutinous French nobles, Aymer, count of Angoulême, and Aimar, viscount of Limoges. It was to Aimar's lands that the king has decided to move against first, investing the castle of Chalus-Chabrol. It is a move that, like so many others King Richard has made, has shocked all as it is the season of Lent, during which the Church prohibits warfare – though its prohibition is often flaunted by the English king.
The king's aim is to completely devastate the lands of his rebellious French vassals. There's also rumors of incalculable treasure and wealth in the Viscount Aimar's lands. At a time when King Richard's treasury is nearly bankrupt, as a result of his many years of ongoing conflicts and war, the prospect of treasure is hard to ignore.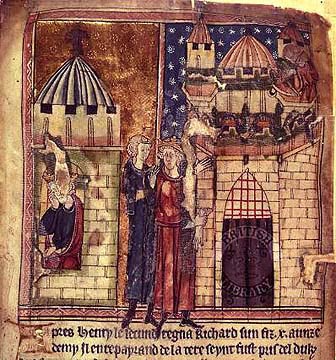 So it is coming to pass that, in this evening of 26 March, a few days into the siege of Chalus-Chabrol, Richard is starting to make his observation of the progress of the siege. As he often does, the king is taking a chance to practice with a crossbow. By all accounts, there appears to be only a forty man garrison of the castle, led by two knights, Peter Bru and Peter Basil, and they are on the verge of surrender. Indeed, as Richard makes his rounds, he notices that only one defender is present on the ramparts – using a frying pan, of all things, as a shield. Though the lone defender is probably an irritant to the professional soldiers besieging the castle, Richard himself decides to not wear any armor save for his headpiece – after all, what protection is needed when the king isn't riding into battle?
What will happen to King Richard and his men? Will the small mutinous French garrison surrender? Who will prevail? Only one side will prevail, choose your side wisely!
The history so presented is a play on actual accounts of the events and the biographies of the characters involved during this time period in history. Are you like us and really, really, really love history? Below are a few historical readings on the topic of this year's theme.

Links & Bibliographies:
The castles of Châlus-Maulmont and Châlus-Chabrol. (n.d.). Retrieved June 14, 2016, from http://www.richardcoeurdelion.fr/the-castles-of-chalus.html
Three French Castles, and the death of a lion. (n.d.). Retrieved June 14, 2016, from http://www.findingtheuniverse.com/2011/12/three-french-castles-and-death-of-lion.html
Henry the Young King Blog: The Lion by the Ant was Slain. A Guest Post by Richard Willis. (n.d.). Retrieved June 14, 2016, from http://henrytheyoungking.blogspot.com/2013/04/the-lion-by-ant-was-slain-guest-post-by.html
Chalus-Chabrol Castle - Richard the Lionheart. (2015). Retrieved June 14, 2016, from http://www.travelfranceonline.com/chalus-chabrol-castle-richard-lionheart/
Châlus. (n.d.). Retrieved June 14, 2016, from https://en.wikipedia.org/wiki/Châlus
Follow us on our Facebook page as we provide unique insights into the history of this year's theme!