2018 Theme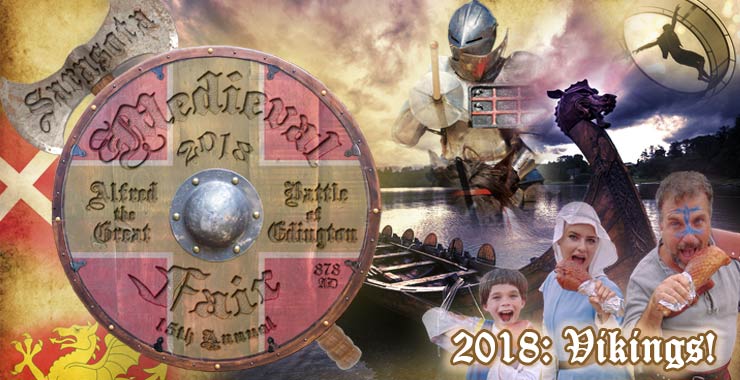 This Year's Theme - Norse Vikings
The year is 878 AD. Invasion is upon us. Under the rule of Guthrum, the Norse Vikings are intent on bringing a brutal and final blow to the Kingdom of Wessex. King Alfred, with the last of his West Saxon forces, is in retreat – intent on making a final stand at the town of Edinton. A levy has been sent out to conscript any who will answer the call to rally. But so many of those loyal to Alfred have already fled.

A deciding battle with the dreaded Guthrum is imminent. The fate of all of Christendom England is at stake, but only one victor will rule the day. Will you heed the summons of King Alfred and offer your allegiance at his desperate time of need, or will you join the feared coalition of Norse warriors with the promise of loot and glory? Only one side will prevail, choose your side wisely!
The history so presented is a play on actual accounts of the events and the biographies
of the characters involved during this time period.
Links & Bibliographies:

Are you like us and really, really, really love history? Below are a few historical and fictional readings/TV shows on the topic of this year's theme.
The Last Kingdom, a television series based on Bernard Cornwell's novels
The Marsh King, by C. Walter Hodges
The Raven and the Cross, a children's television serial
The Ballad of the White Horse, by G. K. Chesterton (who also wrote about the battle in Ethandune, collected in Alarms and Discursions)
The Pale Horseman, by Bernard Cornwell
Sarum by Edward Rutherford
Follow us on our Facebook page as we provide unique insights into the history of this year's theme!