Some Things You Should Know Before Coming To The Fair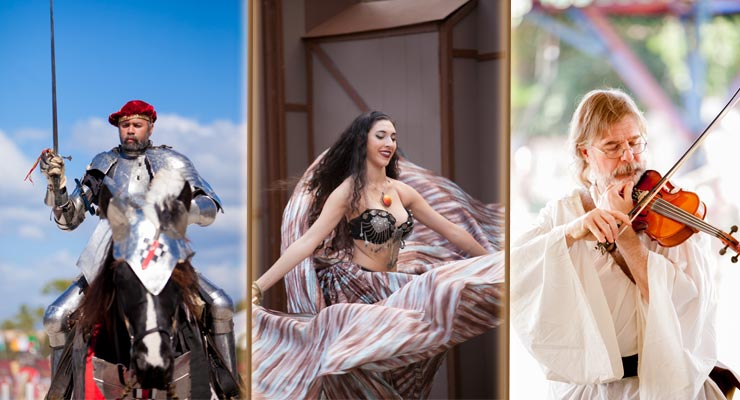 The Sarasota Medieval Fair is open Saturdays and Sundays from Nov. 3 thru Nov. 18, 2018 from 10:00am to 5:30pm rain or shine.
The festival is located in the Ringling Woods behind the Sarasota Fairgrounds. The Sarasota Fairgrounds is close to downtown Sarasota, and offers a park like setting featuring many giant oak trees, trails, and open space. Park Grounds are located in Sarasota, Florida. For specific location and directions, see our Map & Directions Page.
Order Tickets in Advance and save time, plus no waiting in Line. Adults are $18.95, Seniors ( 55+), Students, & Active Military are $16.95, Kids (aged 5-12) are $9.95, and toddlers 4 & Under are FREE. Season passes are also available. Visit our
Ticket Page
for all the details.
Parking is always FREE at the Sarasota Medieval Fair!
All shows, including the Jousting Tournaments and Human Combat Chess Matches, FREE parking, and the FREE Children's Realm are included with the cost of admission. Festival souvenirs, arts and crafts, food, beverages, games, and rides are optional and an additional cost.
Food and beverage stands are conveniently located throughout the festival. Hard and soft coolers, glass containers, food such as sandwiches, meals, snacks etc., and flavored drinks may not be taken into the park. Water bottles may be taken into the park. Outside food and drinks are not allowed in the festival.
Absolutely! If you need to leave the park and re-enter the same day, simply have your hand stamped at the Castle Entranceway.
The festival is an outdoor event, held in a natural setting. Wheelchairs and motorized wheelchairs are welcome. Pathways vary from grass and dirt. Handicapped parking and handicapped-sized portable restrooms are available. Guests are welcome to use their own wheelchairs or single passenger ECV's.
We do not rent wheelchairs or wagons at this time.
Due to the many performing animals in the festival, no pets are allowed in the park. Service Animals: Service animals are welcome at the festival. All service animals must remain on a leash or in a harness at all times. Service animals are the responsibility of the owner and cannot be left unattended. Guests are responsible for behavior control and the cleanup of service animal waste. Festival staff members are not permitted to care for service animals.
The Sarasota Medieval Fair is a family destination, and requires that guests wear appropriate clothing while in the park. This is an outdoor event, so you should dress casually with comfortable walking shoes. Shirts and shoes are required. We reserve the right to refuse festival entry to anyone not properly dressed or with dress that may be offensive to other guests.
We love to see our guests dressed in medieval costumes and costumes are available for sale by our talented merchants within the festival!
No guns of any type are allowed at the festival. If your costume includes a sword, or dagger they must be properly sheathed and peace-tied. Present yourself to security personnel at our Castle Entranceway. No broadaxes, maces, halberds, claymores, pikes or spears are allowed at the festival. Arrows with tips are not allowed. Drawing of any type of weapons at any time is not allowed and will result in immediate removal from the festival.
The Sarasota Medieval Fair remains open during inclement weather, although some of the festivals shows, games, and rides may be temporarily affected or cancelled. Refunds and rain checks will not be issued due to inclement weather. It is extremely rare that we close on a festival day.
The Sarasota Medieval Fair is always looking for talented performers, volunteers, and merchants to join in on the fun! Please visit our Join the Fun page.
For the comfort of all of our Guests, the Sarasota Medieval Fair has two designated smoking areas located throughout the festival. These areas are notated on the festival map. All smoking, including vapes, is permitted only at these locations. Thank you kindly.