Employment Opportunities!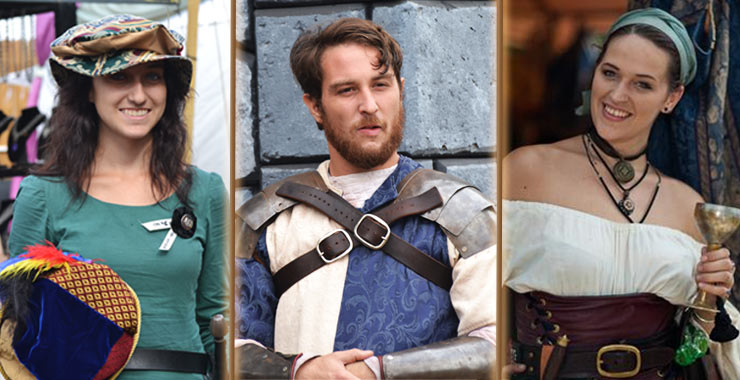 Get Medieval - For King, Glory, & our Guests!
The Annual Sarasota Medieval Fair is currently recruiting for temporary seasonal employment positions!
All of us with SMF are eager to continue our pledge to excellent customer satisfaction and uphold our strong commitment to constant quality improvement – something we term "Constable Achievement." If you're like us and love everything Medieval, we welcome you to join our production cast in our never-ending quest for quality improvements as we orchestrate this historical adventure back in time!
We are looking for candidates who are as excited and passionate about working at the medieval fair as we are towards coordinating festivities. We are seeking candidates who are friendly and can provide a quality customer experience with each guest interaction.
Remaining Available Positions (These positions are festival weekends only):
Although we may have some costumes available for use by employees, please be aware that many available positions require employees to supply his/her own authentic medieval costume if possible, and require availability to work any hours assigned during all six days of the festival.
Job Fair - TBA
The Sarasota Medieval Fair will be hosting a job fair on TBA at the festival site located behind the Sarasota Fairgrounds (3000 Ringling Blvd., Sarasota, FL 34237). If you are interested in applying for any of our available positions, please plan to meet us at our Job Fair for a brief interview. Please wear the medieval/renaissance costume you would be expecting to wear to the medieval fair (if you are selected for the position). If you do not yet have a medieval/renaissance costume and won't have one available by the job fair, please plan to provide us with a picture or a drawing of what your costume will look like. All costumes must be reviewed/pre-approved typically before hire.
Please plan to bring your Social Security Card and Driver's License, OR a Passport (or any valid form verifying your eligibility to work in the United States). If you are selected for any of our available positions, you may be asked to provide verification of your eligibility to work in the United States shortly after the interview/employment offer.
Questions? Email: JeAnna Bland.
Huzzah!