Some Things You Should Know Before Coming To The Fair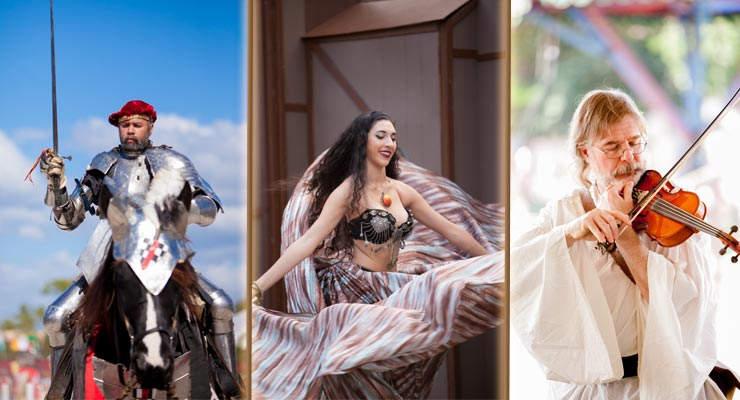 The Sarasota Medieval Fair is open Saturdays and Sundays from Nov. 9 thru Dec. 1, 2019 from 10:00am to 5:30pm rain or shine.
The festival is located in the Ringling Woods behind the Sarasota Fairgrounds. The Sarasota Fairgrounds is close to downtown Sarasota, and offers a park like setting featuring many giant oak trees, trails, and open space. Park Grounds are located in Sarasota, Florida. For specific location and directions, see our Map & Directions Page.
Order Tickets in Advance and save time, plus no waiting in Line. Adults are $18.95, Seniors ( 60+), Students, & Military are $16.95, Kids (aged 5-12) are $9.95, and toddlers 4 & Under are FREE. Discounted Multi-Day passes are also available. Visit our
Ticket Page
for all the details.
Catch all the fun and excitement by purchasing multi-day flex passes to the 2019 Sarasota Medieval Fair! Discounted Multi-Day Passes purchased online must be picked-up at the Passholder Booth during the festival with Photo ID. Photo ID (and the flex pass that will be issued to you at the Passholder Booth) must be presented at the Castle entrance-way to gain entry to the festival each day.
Parking is always FREE at the Sarasota Medieval Fair!
All shows, including the Jousting Tournaments and Human Combat Chess Matches, and the FREE Children's Realm are included with the cost of admission. Parking is always Free. Festival souvenirs, arts and crafts, food, beverages, games, and rides are optional and an additional cost.
Outside food and drinks are not allowed in the festival. Food and beverage stands are conveniently located throughout the festival. Hard and soft coolers, glass containers, food such as sandwiches, meals, snacks etc., and flavored drinks may not be taken into the park. Water bottles may be taken into the park.
Absolutely! If you need to leave the park and re-enter the same day, simply have your hand stamped at the Castle Entranceway.
The festival is an outdoor event, held in a natural park-like setting. Wheelchairs and motorized wheelchairs are welcome and the park is generally wheelchair friendly/accessible. Pathways vary from grass, light mulch, and dirt with minor rolling elevation changes. Handicapped parking and handicapped-sized portable restrooms are available. Guests are welcome to use their own wheelchairs or single passenger ECV's.
We do not rent wheelchairs, ECV's, or wagons at this time.
Animal Policy: Pets or other animals are prohibited at the festival, with the exception of approved service animals. We love our furry friends though (we partner with and provide donations to a number of non-profit 501(c)(3) organizations including the Humane Society), however at our festival site there is a no pet policy. Service animals should remain on a leash or in a harness and under the control of the owner at all times.
The Sarasota Medieval Fair is a family destination, and requires that guests wear appropriate clothing while in the park. This is an outdoor event, so you should dress casually with comfortable walking shoes. Proper attire, including shoes and shirts, must be worn at all times. Clothing containing objectionable language or designs are not permitted.
Our Guests are welcome to wear medieval costumes suitable for a family-friendly atmosphere to get into the spirit of the festival! However, costumes should be in keeping with the medieval era theme of the festival and we reserve the right to deny admission to or remove any person wearing attire that we consider inappropriate or attire that could detract from the experience of other Guests. We kindly ask that our guests refrain from wearing futuristic or sci-fi related costumes that are not in keeping with the theme of the festival - help us to create an immersive medieval festival experience.
Weapons of any kind, including guns, are prohibited. However, if your costume includes a sword, or dagger it may be permissible as long as these decorative weapons are properly sheathed and peace-tied. Present yourself to security personnel at the festival entranceway. Any blade which cannot be sheathed and peace-tied will not be permissible, to include but not limited to: broadaxes, maces, halberds, claymores, pikes or spears. Arrows with tips are not allowed. Drawing of any type of weapons at any time is not allowed and will result in immediate removal from the festival.
The Sarasota Medieval Fair remains open during inclement weather, although some of the festivals shows, games, and rides may be temporarily affected or cancelled. Refunds and rain checks will not be issued due to inclement weather. It is extremely rare that we close on a festival day.
The Sarasota Medieval Fair is always looking for talented performers, volunteers, and merchants to join in on the fun! Please visit our Join the Fun page.
For the comfort of all of our guests, smoking of tobacco, e-cigarettes or other products that produce a vapor or smoke are allowed only in designated areas. These areas are notated on the festival map.