Some Things You Should Know Before Coming To The Fair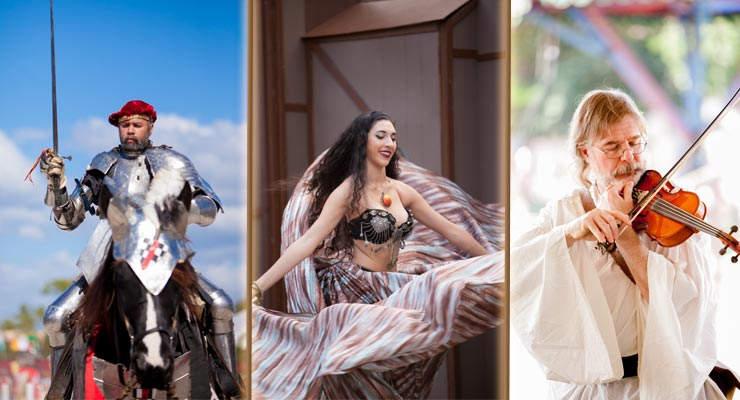 Arrive early!
- Beat the traffic and enjoy our Opening Gate Ceremony at 9:45am. Parking lots open at 9:00am. Ticket booth at the gate opens at 9:30am. Gate opens and traffic builds by 10am.
Opening Weekend!
- If you prefer smaller crowds, join us opening weekend.
Carpool!
- Grab all your friends, turn up the tunes, and start your festival day together.
Think Sunday!
- Sundays typically have fewer crowds, especially when gates open.
Print/Screenshot Tickets
- If you order tickets online (recommended to save time and avoid the lines at the gate), print or screenshot your ticket email in case you do not have cell service at the park.
Follow!
- Go to our Facebook, Instagram, or X (formerly Twitter) page for real-time parking and traffic alerts.
The Sarasota Medieval Fair is a recreation of a medieval era village with festive performers, crafts, demonstrations, games, rides, and food. Each festival day offers exciting tournaments, scrumptious feasts, & pure family fun at our grand improved 47-acre home, the Woods of Mallaranny! Step back in time & watch full-contact jousting, human combat chess matches & other fantastic shows on 13 stages! Enjoy rides & play games! Enjoy music & shop for the holidays in our artisan marketplace of over 100+ shops! Each festival weekend has a unique theme and a full line-up of unique acts! Come one & all for all-around medieval family fun & merriment! Huzzah!
Saturdays & Sundays, November 4-26, 2023 from 10am to 5:30pm, rain or shine.
OUR NEW 47-ACRE HOME! Woods of Mallaranny (29847 FL-70 E., Myakka City, FL 34251). Our new home, the Woods of Mallaranny, offers 47-acres of stunning natural surroundings that will bring the fair to life. See our Map & Directions Page for more details.
Order Tickets in Advance and save time, plus no waiting in Line. Adults are $23.95, Seniors (65+), Students, & Military are $20.95, Kids (aged 4-10) are $13.95, and toddlers 3 & Under are FREE. Discounted Multi-Day passes are also available. Visit our
Ticket Page
for all the details.
Parking is available for free. Beat the traffic though and enjoy smaller crowds by arriving early, joining us Opening Weekend, or attending early on festival Sundays. We also recommend carpooling. RV and trailer parking is not allowed at the festival. Huzzah!
Our guests are welcome to wear medieval costumes suitable for a family-friendly atmosphere to get into the spirit of the festival! However, costumes should be in keeping with the medieval era theme of the festival and we reserve the right to deny admission to or remove any person wearing attire that we consider inappropriate, too revealing, or attire that could detract from the experience of other guests. We kindly ask that our guests please refrain from wearing futuristic or sci-fi related costumes that are not in keeping with the theme of the festival - while we have an absolute love and affinity for these genres, at the Sarasota Medieval Fair we prefer creating an immersive medieval era festival experience.
Costumes are in no way required; comfortable clothes are recommended. Some of our guests come in costume, and we feel that the whole experience is heightened and more fun when you come dressed to play.
The Sarasota Medieval Fair is a family destination, and requires that guests wear appropriate clothing while in the park. This is an outdoor event, so you should dress casually with comfortable walking shoes. Proper attire is required for the duration of your visit to the Sarasota Medieval Fair. In order to maintain an environment suitable for guests of all ages, and in consideration of your personal health and safety, shirts and shoes must be worn at all times. Clothing depicting rude, vulgar, and otherwise offensive language or images is not permitted. Clothing in multiple layers is subject to search. We reserve the right to deny admission to or remove any person wearing attire that we consider inappropriate or attire that could distract from the experience of other guests. Guests in violation of our dress code will be asked to leave and escorted from the festival.
Weapons of any kind, including guns, are prohibited. However, if your costume includes a sword, or dagger it may be permissible as long as these decorative weapons are properly sheathed and peace-tied. Present yourself to security personnel at the festival entranceway. Any blade which cannot be sheathed and peace-tied will not be permissible, to include but not limited to: broadaxes, maces, halberds, claymores, pikes or spears. Arrows with tips are not allowed. Drawing of any type of weapons at any time is not allowed and will result in immediate removal from the festival.
Catch all the fun and excitement by purchasing multi-day flex passes to the Sarasota Medieval Fair! Discounted Multi-Day Passes purchased online must be picked-up at the Passholder Booth during the festival with Photo ID. Photo ID (and the flex pass that will be issued to you at the Passholder Booth) must be presented at the Castle entrance-way to gain entry to the festival each day. For all the details and to purchase Multi-Day passes, please visit our ticketing page.
Animal Policy: Pets or other animals are prohibited at the festival, with the exception of service animals. We love our furry friends though (we partner with and provide donations to a number of non-profit 501(c)(3) organizations including the Humane Society), however at our festival site there is a no pet policy. Service animals should remain on a leash or in a harness and under the control of the owner at all times.
All 100+ shows daily, including the Jousting Tournaments and Human Combat Chess Matches, and the FREE Children's Realm are included with the cost of admission. Parking is always Free. Festival souvenirs, arts and crafts, food, beverages, games, and rides are optional and an additional cost.
Outside food and drinks are not allowed in the festival. Food and beverage stands are conveniently located throughout the festival. Hard and soft coolers, glass containers, food such as sandwiches, meals, snacks etc., and flavored drinks may not be taken into the park. Water bottles may be taken into the park.
Absolutely! If you need to leave the park and re-enter the same day, simply have your hand stamped at the Castle Entranceway.
Debit and credit cards are accepted at the gate at our ticket booth, and with some craft vendors, however most craft vendors, food and beverage vendors, and rides and game vendors only accept cash. ATM's are conveniently located throughout the festival.
The festival is an outdoor event, held in a natural park-like setting. Wheelchairs and motorized wheelchairs are welcome and the park is generally wheelchair friendly/accessible. Pathways vary from grass, light mulch, and dirt with minor rolling elevation changes. Handicapped parking and handicapped-sized portable restrooms are available. Guests are welcome to use their own wheelchairs or single passenger ECV's.
We do not currently rent wheelchairs, ECV's, or wagons at this time.
The Sarasota Medieval Fair remains open during inclement weather, although some of the festivals shows, games, and rides may be temporarily affected or cancelled. Refunds and rain checks will not be issued due to inclement weather. It is extremely rare that we close on a festival day. The festival is open rain or shine.
The Sarasota Medieval Fair is always looking for talented performers, volunteers, and merchants to join in on the fun! Please visit our Join the Fun page.
For the comfort of all of our guests, smoking of tobacco, e-cigarettes or other products that produce a vapor or smoke are allowed only in designated areas. These areas are notated on the festival map.
We recommend arriving as close to our 9:45am Opening Gate Ceremony as possible. Plan to spend at least 5 hours to see most of the performances and have a chance to do some shopping. However, the festival is open from 10:00 a.m. to 5:30 p.m. for guests to enjoy a full day! Even so, with over 100 shows held daily, themed weekends, and unique acts each weekend, not everything can be experienced in one day! We recommend considering a multi-day pass to enjoy all the unique festivities the festival has to offer.
Drones are not permitted at the Sarasota Medieval Fair
Yes! We have a variety of shows that are especially good for children. Kids can also be made a knight or lady of the realm at the Knighting Ceremony held daily, and make sure to visit our free Children's Realm! Check the stage schedules for exact performance dates & show times. Acts are indicated on the festival program as to whether they are rated Family Friendly or rated PG 13.
There are a very limited number of Uber and Lyft drivers available in our area. Please ensure the ride back to your destination is booked and confirmed if you choose to use them for transportation. We have had guests encounter issues with pickup for return trips.
Yes, we absolutely do. Please visit our Royal Weddings page under the 'Join the Fun' tab. Venue rentals for weddings and private parties are also available throughout the year, contact us!
A ticket to the Pub Crawl does not include admission to the Sarasota Medieval Fair. Guests desiring to join our Pub Crawl experience will need both an admission ticket/pass to the festival and a Pub Crawl ticket to join the Pub Crawl. Skip the long pub lines and join our riotous Pub Crawl with toasts, songs, and entertainment as you explore our festival while making rotating stops at our three main pubs to sample our most tasteful meads, our finest beers/ciders, and our delightful wines. All while in the company of some of our villages most colorful characters. Tastings include one flight of beer, one flight of mead, and one flight of wine and a big pour of your favorite, OR three big pours of your choice. For all the details and to make your Pub Crawl reservation, please visit our ticketing page.
VIP Add-Ons do not include admission to the festival. The VIP Royal Treatment! Full Season-long (all 8 festival days) access to our new VIP tent, reserved seating, reserved VIP parking, and VIP only perks & snacks! VIP Add-On's are limited and are available for purchase online. An excellent value when visiting multiple days or if you just want an exclusive VIP experience! VIP Add-On tickets must be redeemed, with Photo ID, at the VIP Tent (located inside the park - consult the festival map). For all the details and to purchase VIP add-ons, please visit our ticketing page.