Royal Weddings & Vows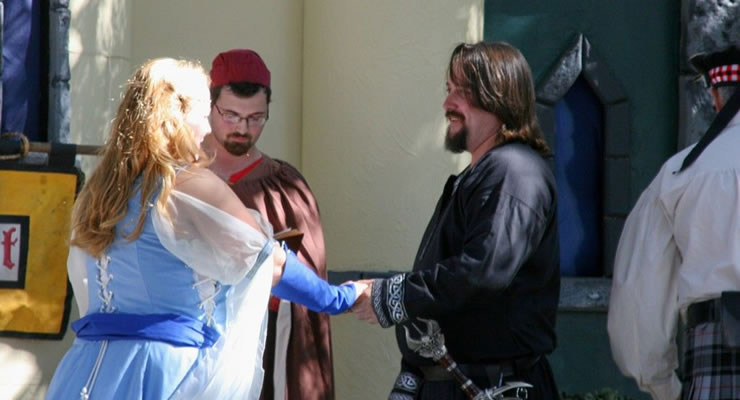 Royal Wedding Packages!
Interested in creating a royal wedding of your dreams during our festival? Let our Wedding Coordinator help you plan the wedding day of your dreams at the Sarasota Medieval Fair!
Our wedding coordinators will meet with the bride and groom to help you choose a package that just right. You have the option to have the ceremony on our Castle Stage, in the Enchanted Forest or a secluded setting in our medieval village. You can then gather in a private area to celebrate with your family and friends or just simply enjoy the rest of the day being entertained at our festival. Enjoy medieval musicians, a Live Human Combat Chess match and Full Contact Jousting! Enjoy a turkey leg, fresh fruit and vegetables and other wonderful dining options. Our vendors can work with you to design your hair garlands, costuming, jewelry, custom leather wedding books and photography. Our medieval grounds will be available for your wedding on any of the festival dates.
Deposit and Payment: A non-refundable deposit of $500 must be paid in advance to reserve the date and time of the wedding. The remaining balance must be paid in full at least fifteen (15) days prior to wedding date. Please contact our Wedding Coordinator for details.
Vow Renewals or Hand-Tying
Perform your own ceremony on one of our stages in our medieval village. Prices will vary depending on the size of area desired.
Contact Us!
We look forward to making your special day a wedding of your dreams. We will be there to assist you with planning the day's schedule and provide guidance on customizing the day for each special couple. Contact us today at: 888-303-FAIR (3247) or email: Info@SarasotaMedievalFair.com