Royal Weddings & Vows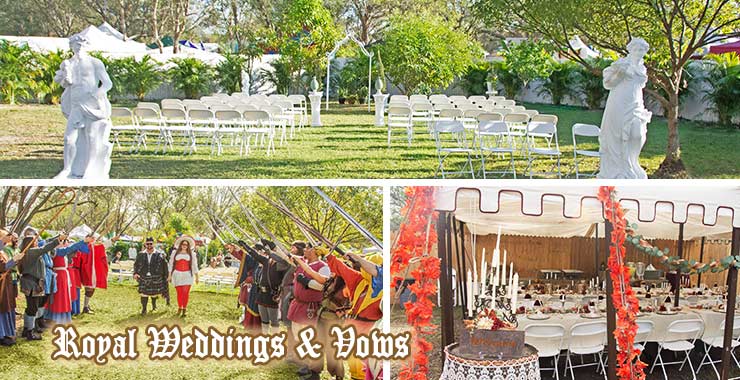 ---
Royal Wedding Packages!
Let our team coordinate with you to facilitate the wedding day of your dreams at the Sarasota Medieval Fair!
Our team will meet with the wedding couple to customize a wedding package unique to you. Whether you are looking for a small intimate affair or a jubilant celebration fit for royalty, the Sarasota Medieval Fair has something to offer.
The day will start with your ceremony in our picturesque wedding chapel located conveniently near the Castle Entrance. After exchanging vows, the wedding couple and guests are heralded into the village to enjoy the medieval musicians, action packed performances, and engaging comedy shows. Guests also have the option to retire to a private reception location reserved just for your special day.
Clients get to enjoy the convenience of selecting a catering team from our on-site food vendors or partaking in the delectable options as they stroll the village.
Ceremony and reception packages are custom to the Sarasota Medieval Fair. Choose from any one of our décor packages themed to fit this unique location. Weather you fancy regal royalty, high fantasy, or subtle elegance we have a design for you.
Vow Renewals or Hand-Tying
Looking for a unique setting to recommit your love? Our wedding chapel offers an intimate setting for you to celebrate your enduring commitment to each other at the Sarasota Medieval Fair. We invite you to reach out to our dedicated staff so we can design a ceremony custom fit to your needs.
DOWNLOAD:
You need Adobe Acrobat Reader (http://get.adobe.com/reader/) to view this attachment.
Contact Us!
We look forward to making your special day a wedding of your dreams. We will be there to assist you with planning the day's schedule and provide guidance on customizing the day for each special couple. Contact us today at: 888-303-FAIR (3247) or email: Info@SarasotaMedievalFair.com