General Information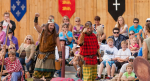 Welcome Welcome To The Sarasota Medieval Fair! Welcome one and all to FOUR weekends of exciting tournaments, scrumptious feasts, & pure family fun at this year's Sarasota Medieval Fair! Join us Saturdays & Sundays Nov. 9 thru Dec 1, 2019 from 10am to 5:30pm rain or shine at the Ringling...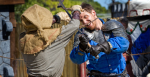 Information & FAQ When: Saturdays & SundaysNov. 9 thru Dec. 1, 2019Open: 10:00am ~ 5:30pmRain or Shine Where: Ringling Woods behind the Sarasota Fairgrounds3000 Ringling BlvdSarasota, FL 34237 See our Map & Directions Page for more details. Parking: Always plenty of FREE parking...
Map & Directions Location Address: Ringling Woods (Behind the Sarasota Fairgrounds)3000 Ringling BlvdSarasota, FL 34237 The Ringling Woods behind the Sarasota Fairgrounds is located on FRUITVILLE ROAD about 4.4 miles WEST of I-75 in Sarasota, Florida. Follow signs. View Larger Map Directions From...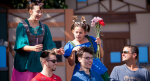 For King, Glory, & Our Guests! A Commitment to Service Excellence! The Sarasota Medieval Fair team was founded in 2005 with the strong commitment to service excellence in the field of customer satisfaction, community relations, value, and professionalism. It brings us great pleasure to create...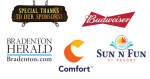 2019 Festival Sponsors Special Thanks to Our Community Partners: Humane Society of Manatee County Humane Society of Sarasota County Kellyn Celtic Arts Irish Dance Academy Irish Dance of Sarasota Blue Skye Pipes and Drums Fellowship for Christian Athletes Lakewood Ranch High School Key...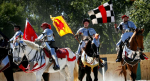 We are looking forward to entertaining a most exciting adventure! We encourage all to interact with our cast of characters, ask questions, and participate in the grandeur of color, sound, taste, and festivities. Huzzah & Cheers! By Phone Toll-Free: 1-888-303-FAIR (3247) Mailing Address Sarasota...