2019 Theme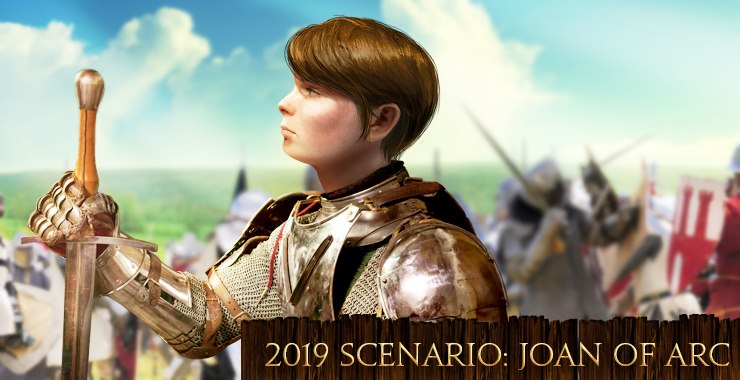 This Year's Theme - Joan of Arc
The year is 1428 AD. The Hundred Years' War has devastated the once beautiful landscape and vibrant economy of France. Word has spread that a mere peasant girl has received divine visions of the Archangel Michael instructing her to support the rightful King of France, Charles VII, and to help recover the true lands of France from the scorned English occupiers. Gaining prominence and admiration, King Charles VII has decided to send the young girl to inspire and lead the loyal countrymen of France at the Siege of Orléans.
A defining battle is imminent. The fate of all of Christendom France is at stake, but only one victor will rule the day. Does your faith inspire you to follow this little-known peasant girl into the firestorm of battle? Will your faith, and the summons of the uncrowned King Charles VII, compel you to offer your allegiance to France at its most desperate time of need, or will you join the brutal and feared English with the promise of loot and glory while they scorn the countryside of France? Only one side will prevail, choose your side wisely!
The history so presented is a play on actual accounts of the events and the biographies
of the characters involved during this time period.


Themed Weekends: New!
In addition to this years 2019 Scenario: Joan of Arc, we are thrilled to announced new Themed Weekends! Visit our Themed Weekends page for all the details. Huzzah!
Links & Bibliographies:
Are you like us and really, really, really love history? Below are a few historical readings on the topic of this year's theme.
Allmand, C. (1988). The Hundred Years War: England and France at War c. 1300–1450. Cambridge: Cambridge University Press. ISBN 978-0-521-31923-2.
Davis, H.W.C (August 2004). Medieval Europe.
Guizot, François Pierre Guillaume (April 2004). A Popular History of France from the Earliest Times. 3.
Haaren, John Henry; Poland, A.B. Famous Men of the Middle Ages.
Lacroix, Paul (February 2004). Manners, Custom and Dress During the Middle Ages and During the Renaissance Period.
Lingard, John. The History of England.
Perroy, Edouard (1965). The Hundred Years War. trans. W.B. Wells. New York: Capricorn Books.
Pollard, A.F. (August 2004). The History of England: A Study in Political Evolution.
Power, Eileen Edna (9 August 2004). Medieval People.
Vauchez, André (1997). Sainthood in the Later Middle Ages. trans. Jean Birrell. Cambridge: Cambridge University Press. ISBN 978-0-521-44559-7.
Follow us on our Facebook page as we provide unique insights into the history of this year's theme!