2022 Theme - Vikings!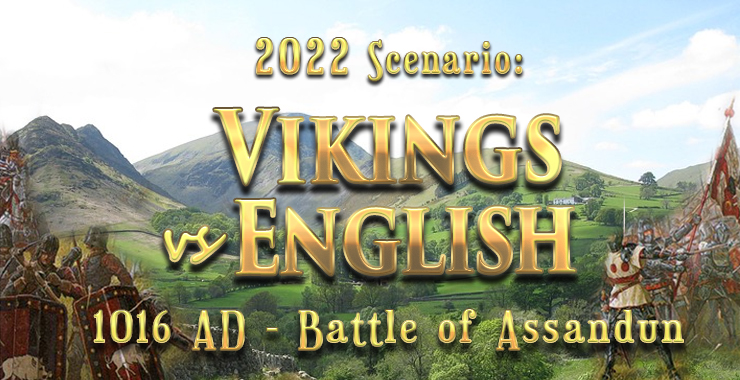 This Year's Scenario - Battle of Assandun, 1016 A.D.!
The year is 1016 AD, October 18th. King Ethelred has died. King Edmund, Ironside of Wessex aged 25, has been crowned King but chaos reigns.
The Danish, led by the warrior Prince Cnute, have invaded and dark clouds appear throughout the land. Four battles have been fought this year already, and battle formations are taking shape for this fifth grand battle. The question of who has the rightful claim to the throne will be settled this day.
Can Edmund with the aid of the 'Sword of Offa' defeat Prince Cnute the Dane with his fleet or will Cnute write his own saga and rule the day? Who will the Church and Ealderman of the realm side with? Will the Earls of Northumbria and Mercia take a side this year? Will the Archbishop of Canterbury speak up on behalf of the people of the Kingdom? Forces are gathering from across all the shires of England. It is time to pick a side. But be reminded, only one victor will rule the day so choose wisely!
The history so presented is a play on actual accounts of the events and the biographies
of the characters involved during this time period.


Themed Weekends:
In addition to this years 2022 Scenario, we are thrilled to announced new Themed Weekends! Visit our Themed Weekends page for all the details. Huzzah!
Links & Bibliographies:
Are you like us and really, really, really love history? Below are a few historical readings on the topic of this year's theme.
https://en.wikipedia.org/wiki/Edmund_Ironside
http://www.patriciabracewell.com/2018/10/the-battle-of-assandun/
https://en-academic.com/dic.nsf/enwiki/3277219
https://aclerkofoxford.blogspot.com/2013/10/the-battle-of-assandun-three-sources.html
https://en.wikipedia.org/wiki/Battle_of_Assandun
Follow us on our Facebook page as we provide unique insights into the history of this year's theme!