2021 Theme - Scottish!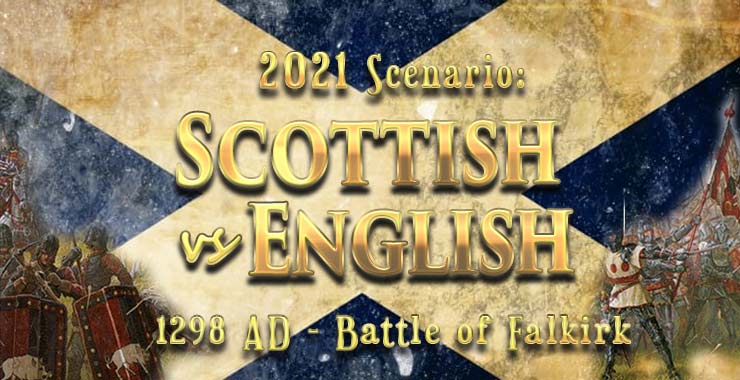 This Year's Theme - Scottish!
The year is 1298 AD. King Edward I, still recovering from a crushing defeat of his forces at the Battle of Stirling Bridge, is determined to quell these rebellious subjects in the heartland of central Scotland. Taking it ill that he and his should be put to so much loss and driven to such straits by William Wallace, he has gathered together a large army, and, having with him, in his company, some of the nobles of Scotland to help him, is now, finally, at the doorsteps of Scotland. Wallace has tried to avoid battle but he can delay no longer. Edwards men are tired from travel and supplies have been delayed. Scottish mist all around, the day has begun, the defining battle for the fate of all of Scotland is at stake, but only one victor will rule the day.
Will you heed the summons of King Edward and offer your allegiance to quell these rebellious subjects from the north, or will you stand with William Wallace at his most desperate time of need?
Only one side will prevail, choose your side wisely!


The history so presented is a play on actual accounts of the events and the biographies
of the characters involved during this time period.


Themed Weekends:
In addition to this years 2021 Scenario, we are thrilled to announced new Themed Weekends! Visit our Themed Weekends page for all the details. Huzzah!
Links & Bibliographies:
Are you like us and really, really, really love history? Below are a few historical readings on the topic of this year's theme.
https://www.highlandtitles.com/blog/the-battle-of-falkirk-highland-titles/
https://alchetron.com/Battle-of-Falkirk
https://en.wikipedia.org/wiki/Battle_of_Falkirk
https://www.britannica.com/topic/battle-of-Falkirk
https://www.bbc.co.uk/bitesize/topics/z8g86sg/articles/zjwdbdm
Follow us on our Facebook page as we provide unique insights into the history of this year's theme!